In the midst of our daily chaotic, fast paced lives we Delhiites love our lazy Sundays. A sunday means more time to sleep, more time with family and friends & puri aloo breakfast.
But, this Sunday we decided to spend it at chandini chowk. The main motto of this Sunday was that I should try the maliwara puri & khurchan mithai. Now you would think why? *shock alert*  Well, just because I have never tasted Chandini Chowk food. We went to one of the oldest eateries of Chandini Chowk. These shops are really small near parathe wali gali.
Maliwara puri is made out of a special dough of udat daal & coarse wheat flour making the puri crisp when deep fried. These puri's are called "Bedmi Puri".  The bedmi puri is served with piping hot aloo ki sabzi- simple yet full of Indian spicy flavours. Dish is served in leaf bowls and newspaper sheets. #EcoFriendly #Recycle 
To soothe your spicy tounge there are few lassi shops. The lassi is made fresh in front of you, and they refuse to put ice as it spoils the real taste of lassi. I found that these sweet lassi were really light to have as compared to what other Indian food shops provide you.
An Indian meal is incomplete without 'mithai' . So we moved forward to a 90 year old shop known as 'Hazari Lal Jain Khurchan Wale'. It is a very small shop in the bylanes of chandini chowk. This mithai shop is famous for it's Khurchan & Rabri.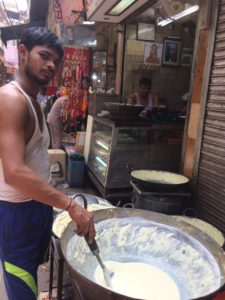 *GOB Alert* Do not miss out on this mithai.
Khurchan in Hindi means "leftovers scrapes". The mithai is made by a simple process – boil the milk, scrape  the leftovers from kadai, spread it on a plate, sprinkle bhura & serve.
These guys serve you the mithai topped with roughly sliced pistachios, adding one more amazing flavour to this mouth melting mithai. It has a dry surface, but as you take your first bite the inner moistness releases a sudden burst of sweet flavours hitting your taste buds and leaving you in a food orgasmic state.
*GOB suggestion* this should be a every sunday routine. 😉Go try all of it this Sunday & let me know if you liked it or not. And definitely let me know if you try something else.