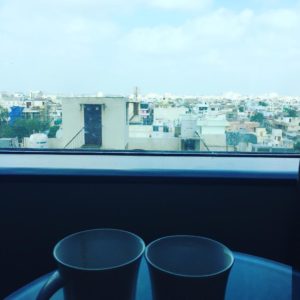 48hrs 2 couples and Four Points by Sheraton!
Wondering how it all went down?
I must say … sudden road trip plan + friends = amazing weekend.
My husband's friend randomly asked him we are headed to Jaipur care to join us? Who would like to say no? Right? And on Saturday early morning at 5:30 all packed, we were sitting in our car, wiping sleep off from our eyes and driving to Jaipur.
Jaipur!
They say "what's in the name?" I say The name "Jaipur " sounds like it has thousands of stories to tell. A city which is the perfect blend of modernity and tradition. A city filled with sweet and spice.
You must be thinking in just 48hrs am I not praising too much? Well, guess how much would you enjoy it more than 48hrs!
#GoBTips – when you plan your trip definitely take at least 4-5 days. And plan when there is a literature fest going on. Definitely, you will enjoy. But, if you have a busy schedule like me and still love to travel? Here is how to make the best of 48 hrs in Jaipur…
We left early morning from Delhi (5:30-6 am) and reached there to treat ourselves with kachoris for breakfast at Rawat's. Rawat is famous for its kachoris, so we got our hands full with pyaz and dal kachoris.
#GOBPrefrence – Pyaz kachori, I'm not a kachori person, but still I loved it.
After a flavourful breakfast at Rawat's, we headed to our hotel to check in and relax @Four Points by Sheraton. To my surprise when I opened the curtains I see the pool! Yes, guys, my room was pool view. (I was happy dancing in my mind). Anyways after a bit relaxing and exploring the beautiful room we all jumped up to get ready to explore the Jaipur's heritage sites. (Pool was left alone for the time being as we had Jaipur to explore)
First Stop – Amber Fort, this 16th-century sandstone fort stands tall on top of a hill. There are elephants and car rides to take you atop. But we choose to walk to enjoy the scenic beauty. You can easily spot Aravalli Hills and Maota Lake while going up. (Also a good way to keep healthy :P) There are beautiful courtyards, temples, palaces whose walls are embellished with stone and mirror work.  Every corner had a story to tell, Jaipur tourism has installed audio bhoots for a history walkthrough at every corner.
#GoBTip – don't get a guide unless you have been living under a rock.
After a long walk at the Amber Fort, we were all a little exhausted as the weather was sunny. To our relief, there was a cafe coffee day, in the fort. Just when you are about to exit and walk down you will spot a slightly hidden CCD. We recharged ourselves with some refreshing drinks and snacks.
Next, we headed to the famous Jal Mahal.  Though I have seen it a lot of times in pictures but trust me pictures don't do justice to the view you get to see.  This beautiful man-made Sagar Lake was built in 16th century by Sawai Jai Singh II. The Jal Mahal floats right in the middle of the lake. A must visit for photography enthusiasts. You will also spot a lot of local street food vendors right outside the lake selling some spicy and mouthwatering dishes. (We were damn hungry, everything in our sight seemed yummy) We refueled our stomachs and headed towards Hawa Mahal but not before doing our photography session.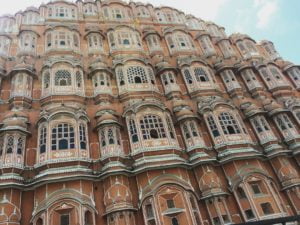 A Trip to Jaipur is incomplete without visiting the Hawa Mahal AKA Palace of winds. It was built for the royal ladies to view the everyday life from its windows as they were not allowed to appear in the public eye. And just like that, the sun had set … leaving us in the awe of beautiful history of Jaipur.
#GoBAweMoment – I was myself surprised how fast we did it all. I guess we did a flash ride.
Although you will find a number of places serving Rajasthani cuisine, one of the best is Chokhi Dhani. This place is a melange of Rajasthani folk music, live entertainment, delectable cosines, Bani Thani art, handmade decors for everything… The list is still incomplete.
#GoBTip – A must visit! No, you can't skip this one.
Those who have less time for vacations and still wish to experience all the flavors of Rajasthan, you will get more than just a glance here.  As one enters this small village like place, you will experience a warmth and ethnicity of Rajasthani culture. The reception area is all hand painted in Mandana Art.  There is also a Deepak wall, at the entrance which looks spectacular in the evening. The Rajasthani's are famous for their "merman nawazi" and this place ensures it. As soon as you enter you will hear a soft folk music floating in the air, a woman and men dressed in Rajasthani clothes will come to greet and welcome you by applying red tilak on your forehead. The entire place is filled with Mandana art on walls, haveli style cottages, handcrafted decor for clothes, home decor, accessories etc. One can visit the section named "Kalagram" to see the work of local craftsmen and women.
The next we saw live traditional dancing artist asking everyone to dance with them. I could not stop my feet to those folk beats and joined the dancers in an age-old dancing style of Rajasthan. The music was intoxicating and even my other friend joined and our husbands made our videos. Because why not? We danced and laughed like no one was watching. There was a fire act show, fortune teller with his parrot, we all took turns asking Mr. Parrot to reveal our destiny. (It's pretty interesting to get a reading from a parrot.)
You will spot a section 'Hangouts' – where they have recreated the scenes of Haldi Ghati Battle. This story holds a lot of importance in the Indian History.  Don't miss out on the replica of Vaishnoaishno Devi temple, Rathkhana with various old age chariots redesigned, Mewar culture and Panghat – Indian wells, Garadiya Luhar – the work of Indian Blacksmith, etc…yes there is more. I don't think I can fit everything in my blog.
#GoB – You might get bored reading this but not while you are Chokhi Dhani, There is so much to do. One can spend days here.
Next, there was activity zone, where one can enjoy elephant rides, camel rides, Jungle sair, Head Massage in Indian Style. One can also enjoy games like shooting and dart. There is a museum which showcasing different cultures and religions of India, a mini India in itself. All in all, it's all a very mesmerizing experience. All these experiences totally made us forget about dinner as our stomachs growled in hunger we set in the direction of the dining area.
Dining area of Chokhi Dhani, tickets have to be bought and people even wait for their turn. The Dining area has 4 different halls: Sangri Dinning Hall – Here the Rajasthani food is served on a leaf plate. Chaupad Dining area – has four paths joining at center, in an old royal way of savoring food. Gorbandh Dining (Open air) – Serves food in open semi-round shape ground, they serve food with ghee, dry fruits, and Rajasthani spices. Royal Dining – serves food in an ethic royal way, it's open air royal dining.
#GoBInfo – Timings – 5 pm to 11 pm
After filling our stomachs with traditional food and our hearts with fun and warmth of Rajasthan we dragged ourselves out and headed towards our hotel.
Next morning we woke up and headed for the breakfast buffet. I love breakfast buffets. But at Four Points by Sheraton, I was a little disappointed with their food. The food did not taste that good. Even when the staff asked for tea or coffee, they served it cold. My coffee tasted so bad. But none the less beside the food our experience in service and stay was pretty good. After breakfast, we headed to the pool to have some fun. And deleted those breakfast blues with some water fun. After checking out from the hotel we headed to the Johri Bazar.
A tour to Jaipur is incomplete without some shopping. We started roaming on the streets of Johri Bazar, famous for its jewellery and jam stones. I spotted an artificial earrings vendor and bought few pairs of beautifully crafted earrings. Next, we saw Laxmi Misthan Bhandar' which is quite famous for its sweets and ghewar. We went in to taste some.
#GoBTip – Do taste the Ghewar, and take some home.
We roamed and walked to Bapu market as well, its just next to Johri Bazaar, one can easily walk down to it (800 meters to be precise). There is a lot of variety of traditional clothes, traditional bed sheets, you name it and you get it. There is a wide variety of artificial jewellery, ethnic footwear to shop at really affordable prices (A shopping paradise). And that's how we came to end our trip and bid Adieu to Jaipur.
Jaipur is definitely a city of thousand stories, stories that will remain in your heart, stories that will call you back again. And I would love to come back again.
Thank you, Jaipur for having us. 🙂
For more interesting pictures and videos go check out our Instagram handle @girlonbullet
#GoBTip – for a weekend it takes around INR 5000 per person. (Including hotel stay and travel expenses)
Cheers and Keep Having Fun!