Into the endless skies!
A sweet, old-fashioned small town nestled in the laps of Kangra Valley, Bir Billing is the hub of adventure activities. And no it's not just Para Gliding…
Billing gives you a tray full of sun-kissed snow peaks, mountain biking, lush green valleys, bungee jumping, sparkling blue lakes, hand gliding, enthralling waterfalls treks and so much more…
Bir is also called the Para Gliding capital of India, attracts thousands of visitors every year. Since now ur interested in reading to know more… let me begin about my adventures at Bir Billing.
We began our journey on a Thursday night with a self-driven car, allowing us a time of almost 3 days in Bir. Reaching the next morning was such a relief as everyone was tired of more than 12-hour-long journey. We did make quite a few stops on the way, the best was the Banganga River stop. It was fun and refreshing.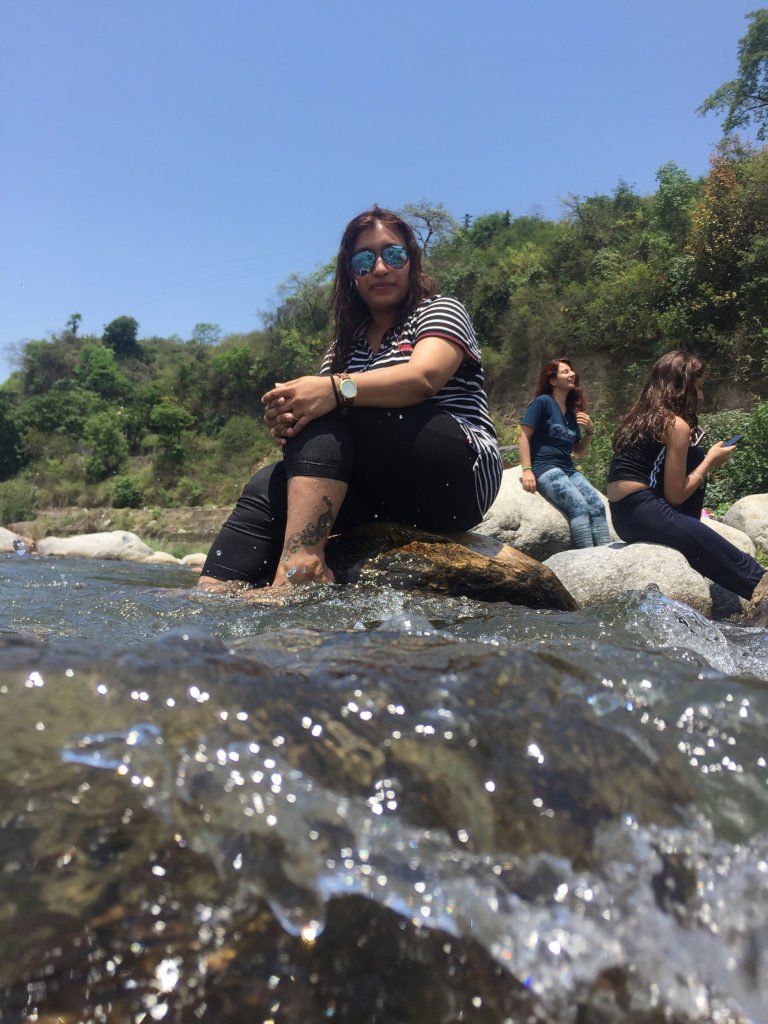 We all did a happy dance 🙂 once we reached the camp!
Stretched hour legs, and then ran to jump on those comfy beds at Camp Kasba. This semi luxurious camp is located by the riverside, quiet a serene & peaceful place. The staff is quite friendly, though the house food is not that great but the service was pretty good. When we asked them to cook in our style, they happily obliged. Al in all we had a wonderful stay.
Our First day was about relaxing and enjoying the campsite. And bonfire night. We planned our slots for Paragliding the early next morning at 5:30. I think this was one of the best decisions made on the trip! As watching the sunrise from the endless skies is not something I can ever put to words. Even a video won't do justice to a live experience. Few words that come to mind are Breathtaking, Overwhelming, Soulful…
This was my second experience at Paragliding and it was worth every second in the air. Watching the sunrise and kiss my soul was one of kind of experience. Those 25-30 minutes made me feel so many things in a flash, an adrenaline rush like never before. Up in the air, one can view at endless skies, sunrise and beautiful view of the city. One also gets enough time to marvel at the great Dhulandar Mountain Range.
#GOBTip: 1. If you easily get nauseous or think that spiralling in the air will make you dizzy would suggest going empty stomach.
2. If you're the adventurous kind like me, ask your trainer to give your parachute spirals in the air. Trust me you'll love it.
After landing, we headed back to our campsite to have our breakfast and then head for a small trek to the waterfall's, as we had a full day ahead of us. While walking back we spotted a lot of beautiful Tea Gardens. Few friendly stray dogs gave us company all the way back to our campsite. These dogs were quite sweet, and on the way back would ask to play with them.
So as guided by the camp manager we headed towards Gunehar River & Waterfalls. Gunehar is a small village tucked in Kangra Valley. We trekked for around 5-6 kilometers and reached the small waterfall with a natural pool around it. We had trekked amidst green fields and small village houses. A lot of kids were coming back from the school and heading to their houses, they also helped us from time to time which direction to go to and one of them even guided towards his father's juice shop. Which was a refreshing treat as we had been walking/hiking in the hot Sun!
Once we reached the small opening like a pond with a small waterfall, it was such a relief. It felt like a mission had been accomplished. So to relax we decided to take a dip below the waterfall as it was a small one. As I stepped in the pool of water I jumped, as the water was way too cold, numbing cold, even in the hot weather. Then I decided if this dip is gonna happen it had to be a sudden one! So I took the leap and jumped right in. But, as soon as I walked ahead and stood below the waterfall all my tiredness washed away. The experience was euphoric. After some fun in the water, we sat there to enjoy the beauty of nature around and mostly to dry ourselves.
Once we came out of the trek trail, we found a small tea and maggie stall. Our stomachs did a happy dance as we ordered some maggie and tea along.
After a day full of adventure we headed back to our campsite for some rest. The camp manager had arranged a DJ night for us, as it was our last night at the camp. After having a scrumptious meal we dance our hearts away around the bonfire under the stars. A night full of memories that are now etched in our hearts.
Next morning we had a belly-filling breakfast and bid goodbyes to camp and the friendly staff of Camp Kasba Bir. We explored Bir a little more, and then we spotted a little cafe "Gliders Pizzeria". It had such a soothing and welcoming aura that we could not stop ourselves to step inside. Though it was a small space, it had such a lovely and homely vibe to it. It had a small section of floor sitting beside a bookshelf along with some board games. So we all sat there having those simple lazy conversations and laughed about life, after placing our orders. The Cafe is run by a beautiful old lady who cooked each order with fresh ingredients. Each dish/ drinks we ordered were so delicious that there was no trace of food left on our plates.


Soon it was time to drive back home! We did stop over for wonderful ice-cream and shakes made by the locals. And later we stopped by at Gurudawara Anandpur Sahib.
A wonderful beginning to the end of the trip!
P.S. : If you guys have any other recommendations or questions feel free to add in the comment box. Would love to hear back!