Hey Peeps!
As they say, "Safety First!", they don't just mean it in bed but also ON THE ROAD. As important as the helmet is, so is your riding jacket and other gear.
When I was looking to get my first riding jacket, I was clueless about what to buy? The community is very niche and hard to find blogs or review videos on the same. And that's why I thought why not help you guys out so as you can make the right decision. Especially, in India bike riding is done without a lot of safety checks and taboos.
My first step was Research, Research and Research!
I talked to riders, friends and even tried to find as many blogs or video reviews as I could find to make the best decision for my safety. Though being a girl I was also quite fixated I don't just want safety but also looks. Trust me finding a date is easier! Kidding… So let's start with some basics.
Types of riding jackets:
Mesh Jacket
All-weather Jacket
Textile Jacket
Touring Jackets
Leather Jackets
Body Armours/ Vests
Mesh Jackets
As the name says, these jackets have mesh panels and are made from the most breathable fabric, making them best suited for summer(especially for Indian Summer). The purpose of mesh build is to allow maximum ventilation while keeping you safe. Some of these come with a removable rain liner, depending on the brand and model.
All Weather Jackets
Personally, I love the all-weather jackets!
These are versatile and allows you to ride in almost all weather types.
The outer layer is made of mesh panels along with detachable thermal and rain liners (will help you tackle rain or cold windy weather).
The biggest pro obviously being they can be used in all seasons and will also give you a nice fit with the liners inside, but sometimes you may find that once the liners are removed your fitting will seem a bit off.
I found the Rynox Air GT3  the best bet with the pricing and quality they offer. It has CE Level 2 protectors at the shoulders, elbow and back. The best part is according to your requirements you can add on the rain liner or winter jacket for just INR 900-2000.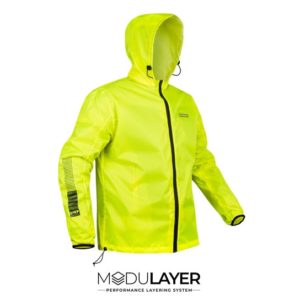 Textile Jackets
These mostly come with an inbuilt rain/ waterproof liner and detachable thermal liner like the all-weather jacket. But the difference is the outer layer is not made of mesh and is not breathable. Although, most models come with air vents to help with ventilation while riding. Therefore, it's better suited for winters even if you are not using the thermal liner.
These are also heavier than other jackets.
Touring Jackets
Touring jackets are like a wishing wand! They can help you dabble in various weathers and terrains. These are longer and put their heart in versatility.
Mostly come with 2 variations:
1. Mesh outer shell – with removable liners
2. Textile outer shell – with air vents and removable liners
If you are a long-range traveller unlike me these can be pretty useful and help you dabble in any unfavourable weather. These are a bit on the expensive side, so the more money you put into its pockets the better features and materials you can get. GoreTex is one of the best materials for the outer shell with Knox Armour Level 2 (CE certified). Rev'it! and Rynox also have good options with CE Level 2 armours.
Leather Jackets
Wearing a vintage leather jacket and riding into the sunset on a Harley… has been a dream for many, even for me. Leather jackets do look cool but what if I tell you you can even wear them in summers?
Leather riding jackets come with rows of small holes or mesh panels making them breathable for summers and are made from superior quality high abrasion-resistant leather.
These days you can get perforated leather jackets that add to your classic vintage style and yet have mesh panels on the chest, back and on the inside the arms to give maximum breathability. Rev'it! Ignition 2 jacket is a good combination of leather and mesh. I spotted good female leather riding jackets on the Royal Enfield website but they don't have mesh or perforated leather options.
Body armours/ vests:
Armours or vests are not jackets but they keep you safe while riding.They become like a second skin and fits you like a body con dress.
You can wear this under your casual tees or shirt. Just like wonder woman. You can also use this during peak summers. Although body vests leave you exposed on your arms, unlike the armours which give you full protection.
What all questions do you need to ask yourself before buying a riding jacket:
1. What's my budget?
2. How often do I ride and what regions/ terrain/ weather do I prefer to ride?
3. What kind of protectors are being used in the jackets?
4. Quality of the stitching/ quality of the jacket.
5. If the jacket can be multipurpose?
6. What's the right fit for you?
How to check the level or quality of armours being used in your jackets or riding wear?
Once you start looking for body armour/ jacket, you may see that the protector or the packaging mentioning a CE rating or an EN European rating. Most international brands that offer protective gear in global markets label their armour based on a CE rating. CE stands for Conformité Européene, which means European Conformity. It's a rating system to measure the effectiveness of armour in absorbing or withstanding accidental impacts.
Mostly all good jackets come with CE grade armours on shoulders and elbows and an optional back armour.
A lot of people when buying a jacket skip adding back armour. But don't forget, your spine is the key to your body. The back armour also helps stop the jacket from sliding up in case you have a sliding fall.
There are two levels of CE protection: CE level 1 and CE level 2 protectors. Typically, you only need a CE level 1 for daily routines or race tracks. However, some more advanced and higher speed track races or off-roading tours or difficult bike tours require CE level 2.
Any armour used in your gear has been tested, certified or been approved.
What's the difference you might be thinking?
CE Tested: The term normally implies that the manufacturer tested the whole or just a piece of a garment within their own facility that might meet certain standards. However, the garment is not necessarily tested in a certified testing facility to meet officially accredited standards.
CE Certified: This is more secure, as it states that the garment samples were tested in certified testing facilities. In this case, you need to find out which part of a garment was tested.
CE Approved: This means several parts of a garment were tested in certified facilities and are accredited to meet or surpass the required standards in all zones
Choose your gear wisely and it will become your best riding partner!